Downloads
Files can be downloaded from the My Downloads page after checkout.
A download link will also be sent to the email address on file with your order confirmation.
---
Using Spark AR Templates
To quickly update template textures, right click a texture in the Assets panel and select Replace.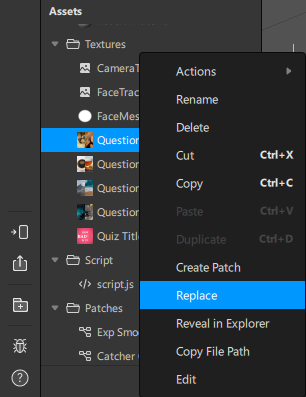 Color Codes
Look for notes in the Patch Editor describing the function of patch groups. Color codes are used describe patch functions.
Green
Easy edits to quickly change the values and effect properties. These are non-destructive edits you can apply to some inputs to change the effect.
Blue
Effect logic driving the essential functions of the effect. Edits to these areas will change the core properties of the effect.
Purple
Script elements; values and attributes sent to script and from script.
Yellow
Position, animation and transformation properties. These areas setup the position, movement and animation of elements of the effect.
Orange
Graphic or visual elements like textures and text objects.
Gray
Effect information. This is where screen instructions are defined, the effect is started and time is kept for effects like games.
If you have trouble using an effect or need support, feel free to send a message using this contact form.
---
Checkout Support
Card Declined
If your card is declined, check to see if the payment method is available in your country.
---