Digital eye strain from screens is increasingly common if you spend a lot of time on the computer. I have been dealing with eye strain since working from home; but my experience began in 2018. I found out how to get rid of eye strain using blue light glasses. Read on to learn about what works for me, as a programmer.
5 Tips to Get Rid of Eye Strain
There are some natural habits that can reduce the symptoms of digital eye strain. Here are a few from the American Optometric Association:
Keep your distance: The eyes work harder to see close up than far away. Keep your screen at arm's length, about 25 inches away. Position your screen so your eye gaze is slightly downward.
Reduce glare: Try using a matte screen filter.
Adjust lighting: If a screen is much brighter than the surrounding light, your eyes have to work harder to see. Adjust your lighting and try increasing the contrast on your screen to reduce eye strain.
Give your eyes a break: Remember to blink and follow the 20-20-20 rule. Take a break every 20 minutes by looking at an object 20 feet away for 20 seconds. Looking into the distance allows your eyes to relax.
Keep eyes moist: Artificial tears help lubricate your eyes when they feel dry. Consider using a desktop humidifier. Office buildings have humidity-controlled environments that suck moisture out of the air. In winter, heaters on high can further dry your eyes.
Stop using devices before bed: There is evidence that blue light may affect the body's circadian rhythm, our natural wake and sleep cycle. During the day, blue light wakes us up and stimulates us. So, too much blue light exposure late at night from your phone or other devices may make it harder to get to sleep. Limit screen time one to two hours before bedtime. Use nighttime settings on devices and computers that minimize blue light exposure.
Best Blue Light Blocking Glasses
I want to share a few details about my experience with digital eye strain.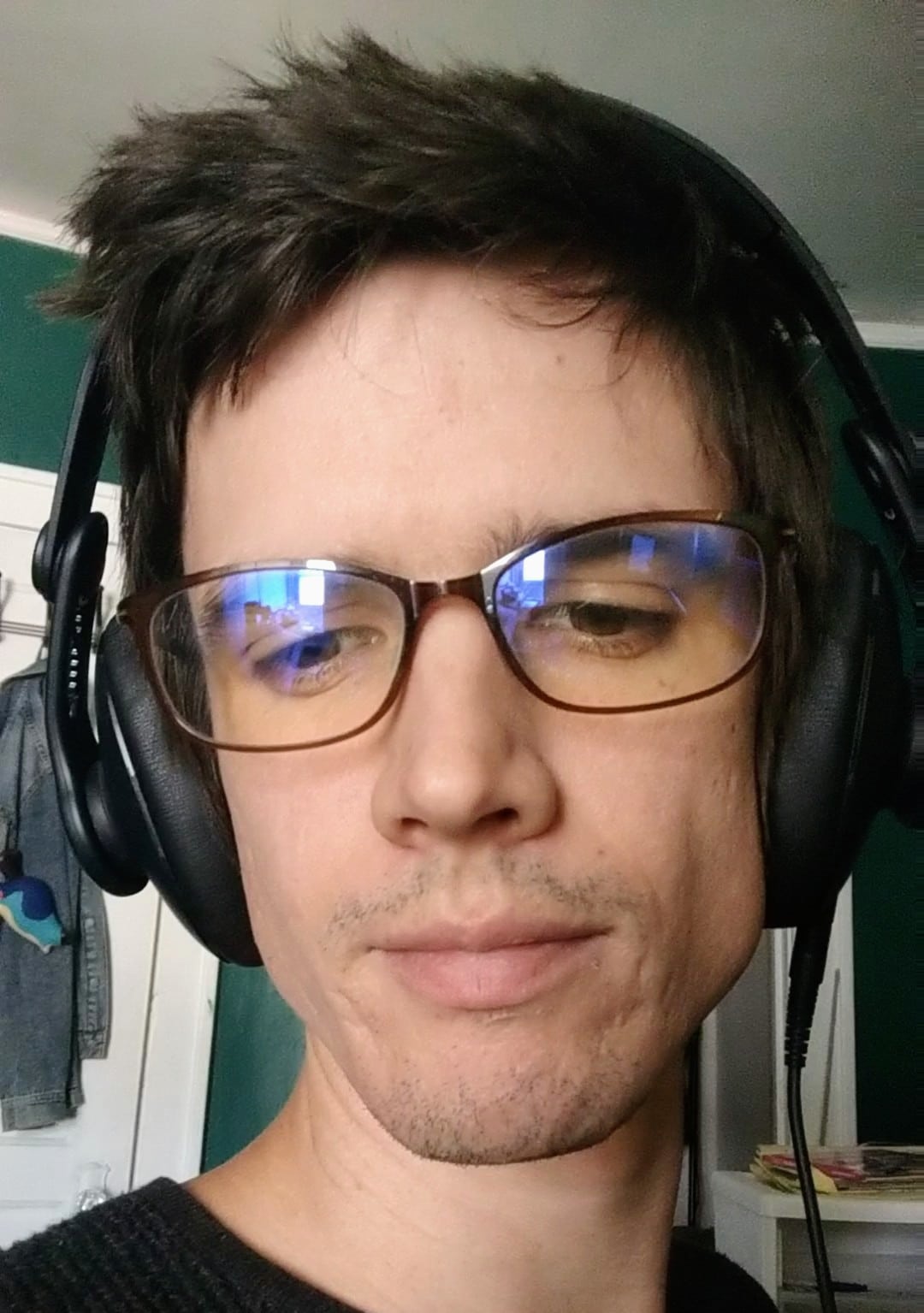 In 2018 I was diagnosed with a demyelinating spinal cord disease called transverse myelitis. It is a neurological condition that resulted in some physical disabilities. Consequently, I spend a lot more time on the computer now. My first solution to eye strain was rubbing my eyes, walking away from the screen and drinking plenty of water.
But as soon as I was back, they would hurt again. So I tried blue light computer glasses. I should mention at this point that I have a 4 year old, at the time she was 2, and you know; they would go missing, scratched, etc. I can't stand scratches on my glasses.
So I tried a few different brands. While most of them helped me get rid of eye strain, I struggled to find a brand that balanced performance with comfort and style. A lot of them have this starship commander look, like you're about to climb into an autonomous fighter jet control chair. But not these…
I finally found some I liked and I wanted to share them with my fellow programmers and and digital creators who spend plenty of time in front of their screens. They are the Orion by Umizato.
---
---
Umizato, I've found to be the best out there to get rid of eye strain. They are a family owned, US based company out of Southern California. They have so many specs on their listing including scratch resistance and how the blue light is filtered.
99% MORE RELAXED ▶ Wear these blue light blocking computer gaming glasses 2-3 hours before bed time, and fall asleep faster with better quality sleep by regulating your melatonin. Our 3rd party independent lab tested lenses are engineered to reduce fatigue, eye strain, headaches, migraines, dry eyes, and light sensitivity.
SUPER LIGHTWEIGHT and COMFORTABLE ▶ The Orion premium quality frames are handcrafted using Swiss invented TR90 material that's both lightweight, durable. With ergonomics in mind, the adjustable nose pads and spring hinges make them flexible and comfortable, making them the best around. Weighs only 14g, you won't even notice they're on!
PROTECTION WHERE IT MATTERS ▶ Unlike other blue light blocking glasses, Umizato lenses filter out 30% blue light at 400-470nmn and 90% at 400-500nm, while also having low color distortion clear lenses. 455nm is the peak point which LED and digital devices such as tv, monitors, and smartphones emit blue light from. Our scratch resistant lenses include premium coatings for antiglare protection and oil resistance (less fingerprints and cleaning). Perfect anti-glare migraine, UV blocker glasses.
DESIGNED BY PEOPLE WHO CARE ▶ Umizato is a family owned business located in Southern California. We designed these (Orion in Cafe) blue light filter glasses for men and women with a minimalist style in mind. They even come with a complementary modern hard shell case, and a microfiber cleaning cloth.
100% LIFETIME GUARANTEE ▶ NO RISK! We are confident you will LOVE them and appreciate the quality and durability over the cheap materials of our competitors or we'll take them back. No questions asked.
Why Blue Light Glasses Work
There are two reasons why computer glasses work for me.
Blue light glasses filter out light from screens that can make digital eye strain worse and make falling asleep difficult.
Secondly, they increase the humidity between your eye and the air. Think of a steamy room with sunlight spilling in through the window. Ahh…I love sunlight. But the same concept holds here.
So give them a try if you're dealing with digital eye strain. There also seems to be plenty of eye strain relief exercises online. Including drops which I wouldn't mess around with.
Glasses just make sense, and honestly, they help me mentally separate work time from home time while working from home. When I have my Umizato computer glasses on, I mean business. Give them a try to get rid of eye strain.
---
Check out the Filter Shop for Spark AR templates and tools
Please follow and like us: